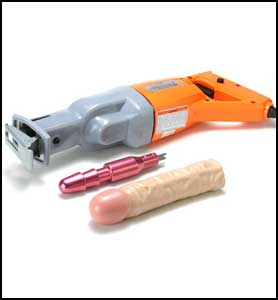 Northwestern University psychology Professor J. Michael Bailey's human-sexuality course included an after-class optional demonstration that did involve sexuality, penetration, and orgasm. It's creating a buzz around the web and in sex positive circles. Some are calling it "controversial" others are calling it a inappropriate use of university space. Even sex positive critics are questioning what the point of the demonstration was, exactly.
First off, I think the mainstream media is getting off on being able to say "Fuck Saw" in their article which actually makes the demonstration a little more interesting. In and of itself it's irrelevant. No funds were directed to the demo, everyone consented including the audience, it was designed for anyone who had some spare time and was curious. My question about the hullaballo is around how the discourse of this demonstration would change if we stopped calling the device in question a "Fuck Saw" (its brand name) and called it a handheld motorized dildo.
Was the demonstration potentially pointless? Sure. Every single lecture I ever sat through in University was potentially pointless. You can only take away what you're open to hearing and for a lot of people it might very well be important to see a fuck saw used on a woman because the only time a device like this is spoken about in academic circles is in an anti-porn context. Actually seeing that the fuck saw is not, in fact, a chain saw can literally change the entire context of the debate for someone. It wasn't mandatory, it was there if you wanted to see it and participate in a discourse about it with the people involved. It seems to me that it's a perfectly fine place for an optional demonstration of that nature.
Although people are incredibly uncomfortable with the idea of explicit sex in classroom, sex is a human activity worthy of critical study. When you recontextualize sex and put it in a lecture hall for the expressed purpose of dissecting it, theoretically and critically, it loses its erotic charge and becomes almost medicalized. We talk about "the male gaze" or the "female gaze" but there are also "academic gazes" and "medical gazes" and explicit sex is just as worthy of an intellectually focused gaze as a piece of art, architecture, philosophy, psychology, anthropology, sociology, literature, et al. Universities study two things: nature and humanity. Sex is very much a part of both.
It looks to me like the media eroticized that demonstration more than anyone else in the room and that's interesting.
[Edit: Maymay did an amazing wrap up of all the links along with some of his insightful commentary before me. How did I miss that? Click this link if you want to read more.]